mailmindr Preferences
mailmindr can be adjusted with a range of settings to fit your daily workflow.
Open the preferences
Since Thunderbird 78 you can reach an AddOn's preferences via AddOn Manager.

The "tool icon" in mailmindr's list item opens the preferences (beside the "…" button).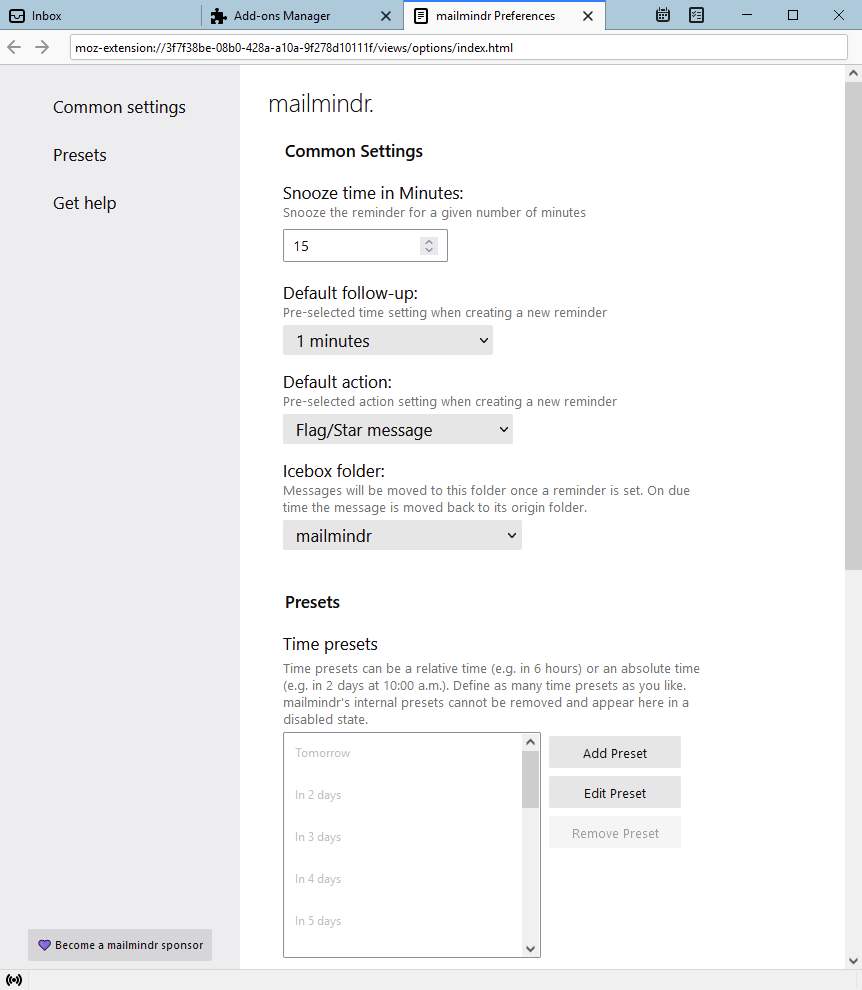 Snooze
When the reminder window is shown, a reminder for a follow-up can be "snoozed" for a given time range. The reminder will be removed from the window and will be shown again after the "snoozed" minutes.
Default preset
The default preset for a time when creating a follow up is created.
Default action
The preselected action when a follow up is created.
Icobox folder
After setting a follow up, the corresponding e-mail can be moved to an "icebox folder" to keep the inbox clean. When a follow up is due, the message will be moved back to its original folder, like back to the inbox.
Time presets
You can extend mailmindr's list of presets for the due time range. There are two types for presets: "relative" and "fixed time".
"Relative" presets depend on the time when the follow up is set. When a follow up is created at 08:00am and the preset "in seven hours" is used, then the dure time will be 3:00pm at the same day.
A preset with a "fixed time" is a combination of a number of days and a fixed time, e.g. "in three days at 09:00am". When you set a folloup up with this preset on monday, the follow up will be due on thursday at 09:00am.