Thunderbird AddOn Manager
Since Thunderbird 78 the UI is adapted from Firefox. This change makes the settings for Thunderbird AddOns unavailable in the main menu. However, settings for each AddOn can be opened via the list of installed AddOns in the AddOn Manager.
Open Thunderbird's AddOn-Manager
The AddOn Manager can be opened from the main menu via the menu item "AddOns and Themes" and opens in a separate tab.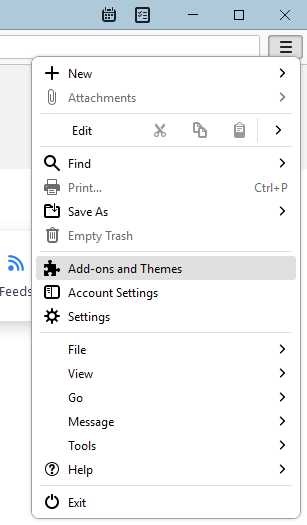 Recommendations, Extensions and Themes
In the left navigation area of the AddOn Manager are at least three navigation items available that lead to the corresponding sections:
Recommendations
Extensions
Themes
Dictionary (only available when a dictionary is installed)
Two more navigation items are available at the bottom section of the navigation area (not shown in the image):
Thunderbird Preferences
AddOn Support

Recommendations
The list of Thunderbird's recommended AddOns. It's not derived from the most used extensions, but nevertheless the listed AddOns are pretty useful.
Extensions
Here you can find a list of installed AddOns, regardless if activated or disabled. Open an AddOn's preferences or adjust shortcuts, if an AddOn supports this. mailmindr offers quite a bunch of preferences to adjust it to your daily workflow.
Themes
For those who love it colorful. Spice up your Thunderbird with colors, instead of the standard light and dark themes.
Dictionaries
If you're frequently writing e-mails with different languages you may find spellchecks useful. You can enable spellcheckers by installing one or more dictionaries which you can find here once they are installed.
Thunderbird Preferences
Just opens the preferences for Thunderbird.
AddOns Support
Too bad that Thunderbird isn't offering a help page for working with addons or the overview of your installed AddOns' donation options. AddOns Support just opens the FAQ on Thunderbird AddOns.